Calan Porter has a spectacular beach however the road leading down to the beach is extremely steep.    Access with a mobility scooter could be dangerous and we do not recommend this.
The beach is  not accessible by bus  and there is only 1 Disabled Parking Place !
Once you are at the beach you shall enjoy the spectacular views of the bay cove and sea. There are restaurants, bars and a beach shop.  There is a small playground and a wooden cladding walkway leading to the beach.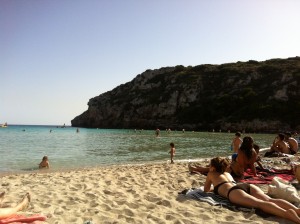 Facilities on the Beach
Disabled Parking
Buoys and nets
Parasols
Life guards
Cladding walkways and Ramps on to the beach
Amphibious floating chairs (Ask Red Cross staff for help!)
Disabled Toilets
Sunbeds