Wheelchair Accessible Route to Ciutadella from Cala Blanca
ROUTE CALA BLANCA – PLACA ES BORN, CIUTADELLA
Distance: 5 km
Time: 01h20
Departure: Cala Blanca, Avinguda de Cala Blanca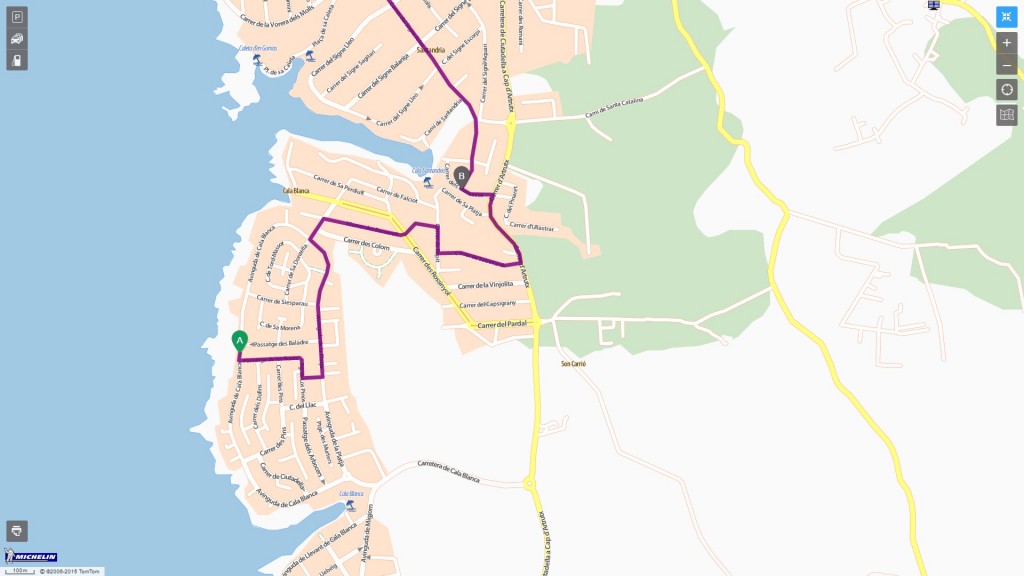 Leave Cala Blanca
<0.1 km                Turn left
<0.1 km00h00   Then immediately , turn left : Passatge de Les Roses
0.2 km   00h01   Continue along: Passeig de los Pinos
0.3 km   00h01   Turn left : Passatge Dels Arbocers
0.4 km   00h01   Turn left :  Avinguda de la Platja
0.7 km   00h03   Continue along: Avinguda de la Platja de Cala Blanca
0.9 km   00h03   Turn right : Carrer de Sa Cadernera
1 km      00h04   Turn right : Carrer Des Passerell
1.3 km   00h05   Continue along: Urbanització de Son Carrió / Urbanización de Son Carrió
1.4 km   00h05   Turn right Carrer de Rupit
1.5 km   00h06   Turn left : Carrer de Sabellarol
1.8 km   00h07   Turn left : ME-24 Carrer D'Artrutx
2 km      00h08   Turn left : Calle de los Francesos / Carrer Dels Francesos
Stage A: Cala Blanca, Carrer Dels Catalans
2 km      00h09    Turn right : Carrer Dels Catalans
2.5 km  00h09    Continue along: Carrer Dels Alemanys
2.5 km  00h10    Continue along Carrer del Signe Aries
Stage B: Santandria, Carrer Signe Aries
3 km      00h13    Turn right : Carrer Signe Aries
3 km      00h13    Turn right : Camí de Sa Caleta
3.5 km  00h14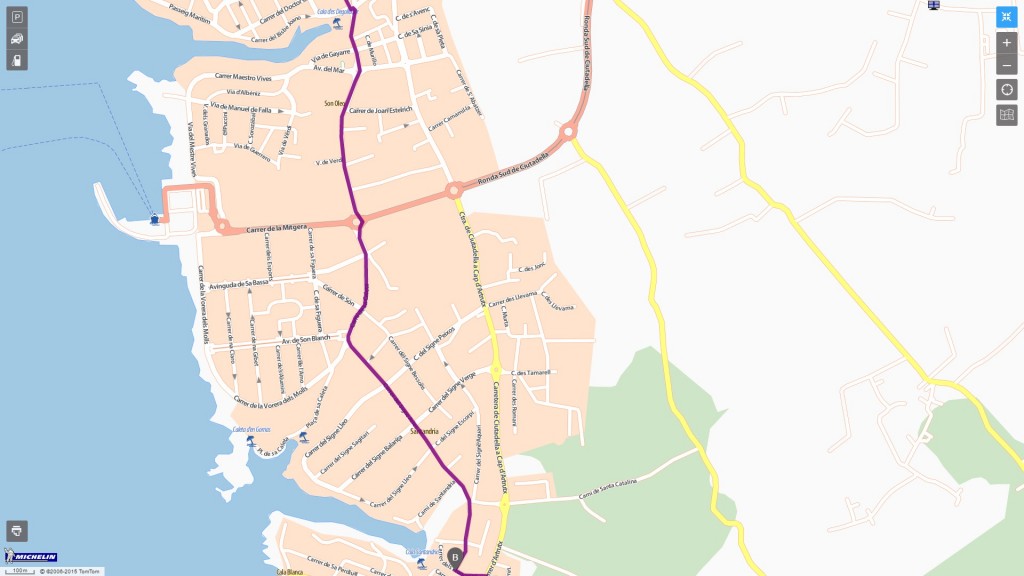 Arrive in Ciutadella de Menorca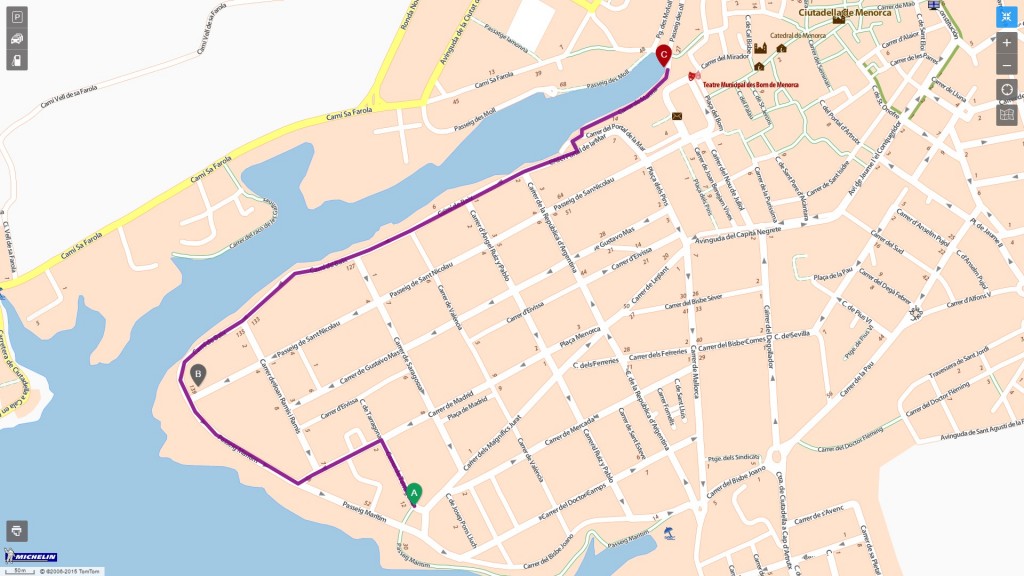 3.5 km  00h14    Continue along Camí de Sa Caleta
3.5 km  00h14    At the roundabout, take the 2nd exit: Carretera de Ciutadella A Sa Caleta
3.5 km  00h15   
 Morvedra Nou
3.5 km  00h15   
 Mon Restaurant
4 km      00h17    At the roundabout, Carretera de Ciutadella A Sa Caleta, take the 2nd exit: Carretera de Ciutadella A Sa Caleta
4.5 km  00h18    At the roundabout, take the 2nd exit: Carrer de la República D'Argentina
4.5 km  00h19    Turn left : Carrer de Mercadal
4.5 km  00h19    Turn left :  Carrer D'Àngel Ruiz Y Pablo
5 km      00h20   
Stage C: Ciutadella de Menorca, Carrer D'Àngel Ruiz Y Pablo
5 km      00h20    Turn left : Carrer del Bisbe Joano
5 km      00h20    Continue along: Carrer del Bisbe Juano
DISTANCE PASSEIG MARITIM TO HISTORIC PORT : 2 km
Route plan in Ciutadella de Menorca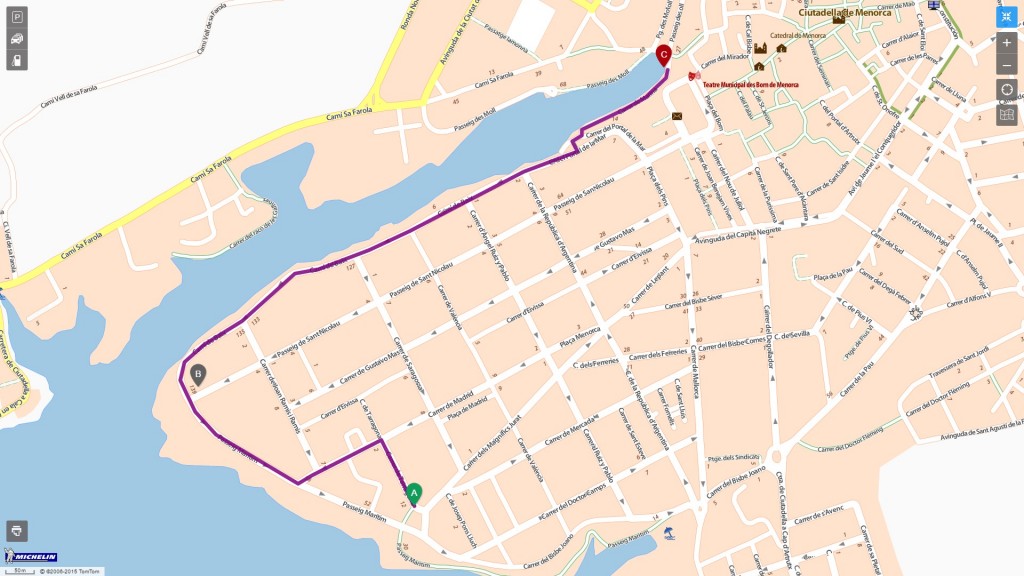 AT POINT D on first map below (CARRER DEL BISBOE JOANA) take left fork onto PASSEIG MARITIM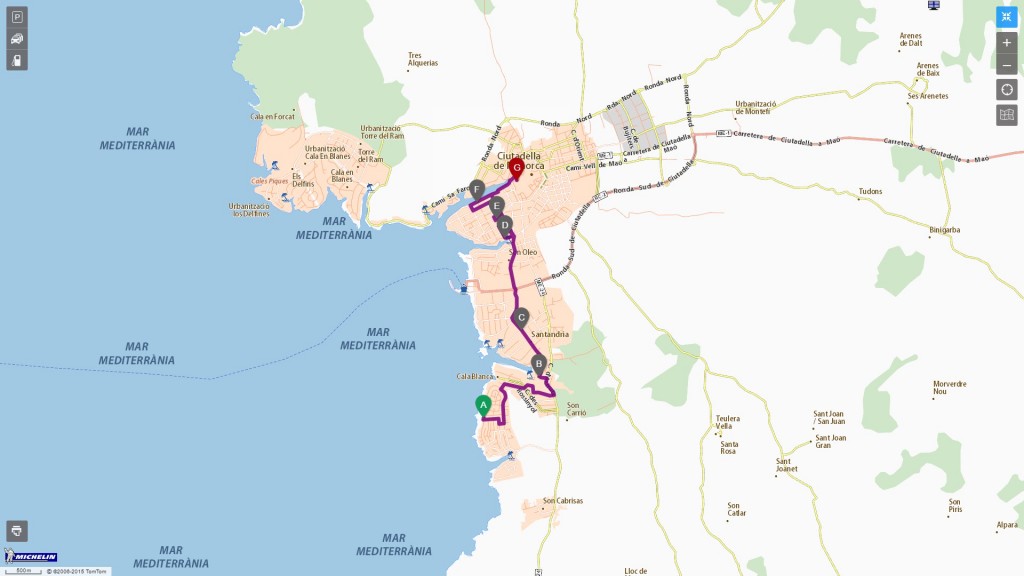 0.2 km  00h03    Continue along: Passeig Marítim
0.3 km  00h04    Continue right : Passeig Marítim
0.5 km  00h07    Continue along: Camí de Baix
Stage A: Ciutadella de Menorca, Camí de Baix
1.4 km  00h20    Turn left
1.4 km  00h20    Turn right
1.4 km  00h20    Then immediately , turn left : Carrer de Marina
This leads to the old Port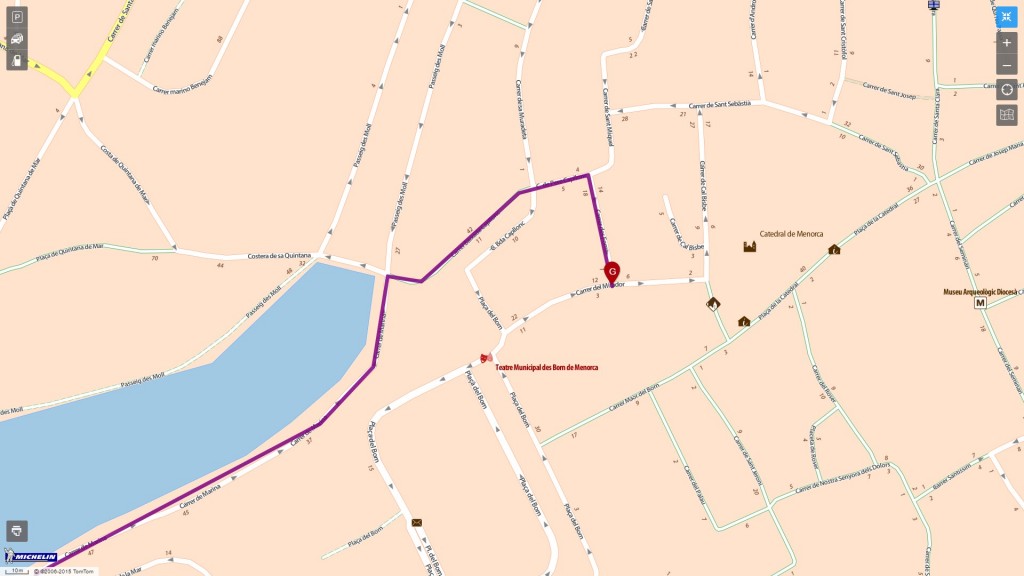 7 km      00h30    Turn right : Carrer Baixada Capllonc
7 km      00h31    Turn right
7 km      00h31    Then immediately , turn right : Carrer Des Forn
7 km      00h31   
G
Destination: Ciutadella de Menorca, Calle del Forn
You can drive around the back of the harbour to get back to Mirador and narrow path to Plaza des Born. From there you can ride along pedestrian only streets of the old city where there are shops, historic buildings and cafes.
Map of Ciutadella with disabled parking places
Please click on image for larger format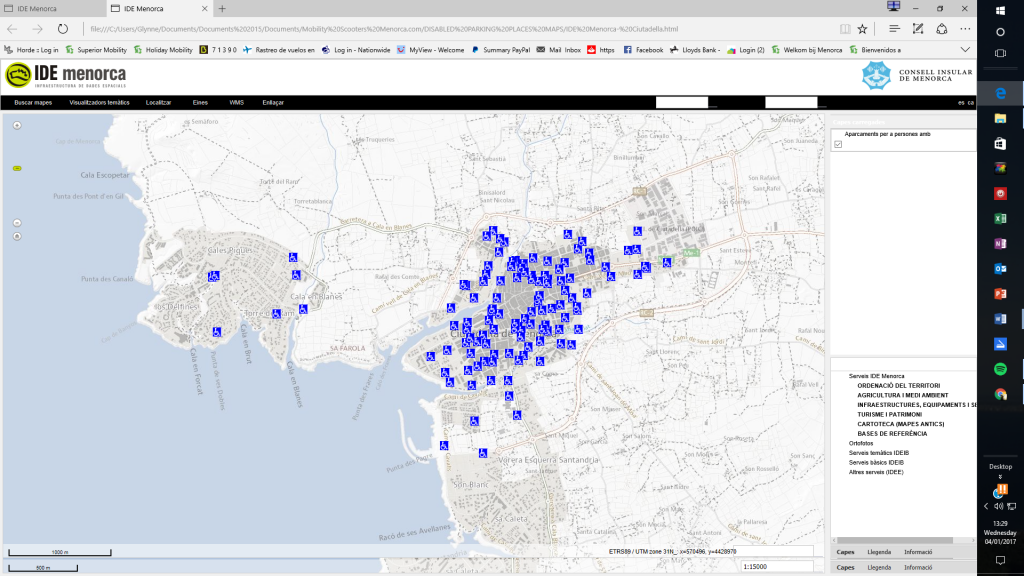 Any information from this website is shared in good faith. Please be aware that Holiday Mobility Scooters Menorca is not responsible for any disappointments or inaccuracies.