Wheelchair Accessible Beaches & Resorts
There are a total of  12  beaches in Menorca prepared for people with reduced mobility. This means that people who are less mobile can come to these beaches and count on the qualified assistance of Red Cross members and spend a perfect day at the beach! 
The services offered to visitors include lifeguards watching the bathers, adapted access walkways to the beaches, amphibious floating chairs that allow for a refreshing dip in the sea and adapted toilets. The amphibious floating chairs are available at each beach according to a specific schedule (see below).
Every beach offers different services and corresponding schedule. You can consult the table below to view which services are offered at which beaches and during which days of the month. Please ask the Red Cross staff to help as they are there to assist you!
The list of accessible beaches below has been published by the Association for the Disabled in Menorca.
Please click on the beaches below and a new window will open with detailed information
Video Stunning Accessible Beach – 
Cala Santandria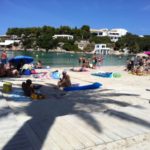 Services at each beach
In the next table you can view the special assistance services offered to visitors with reduced mobility and the dates on which they are available at each of the ten beaches. 
   Platges Adaptades Menorca 2013 –
  Click on table for improved view of the list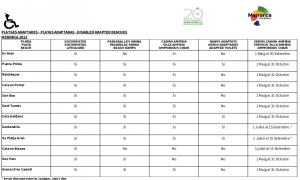 Any information from this website is shared in good faith. Please be aware that  Holiday Mobility Scooters Menorca is not responsible for any disappointments or inaccuracies.