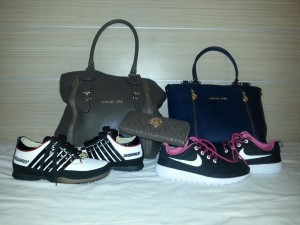 Opening Times for Shops, Banks and Businesses
Most of the shops' area open from Monday – Saturday
Mornings:     9 am – 1.30 pm
Afternoons:  4.30 pm – 8 pm
Some tourist shops are open on Sundays and some businesses close on Saturday afternoons.
Markets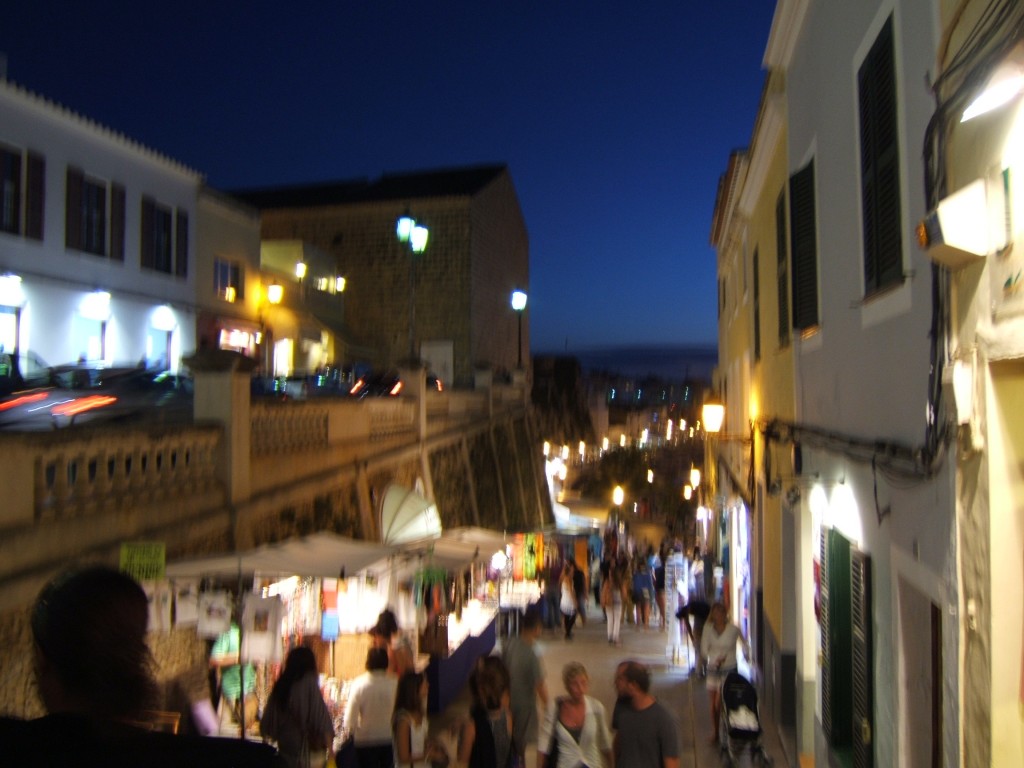 Mahon Tuesdays & Saturdays – Artisans market
Es Castell Monday/Wednesday 
Alaior Thursday +
Ferreries Tuesday/Friday 
Ciutadella Fridays and Saturdays  
Cala Galdana: Night market on Wednesdays, July and August, from 20.00 to 23.00 hours.
Cala'n Porter: Flea market on Mondays and Thursdays, May to October, from 19.00 to 23.00 hours in the Plaça de Mevis.
Es Migjorn Gran: Night market in the main streets on Tuesdays, July and August, from 19.30 to 23.30 hours.
Calas Fonts, Es Castell: Craft and jewellery market every evening, June until early September, from 20.00 to 02.00 hours along the central ramp leading down to Calas Fonts.
Sant Lluís: Evening craft market, tapas and music on Thursdays in Cós de Sant Lluís from 26 July to 16 August, from 18.00 hours to midnight.
Punta Prima: Craft market on Mondays, Wednesdays, Thursdays and Sundays from June to mid-September in the Passeig de s'Arenal from 18.00 to 23.00 hours.
Night markets The nights of Menorca are tinged with crafts and gastronomic products of the island. Music and lights to the rhythm of summer street markets. Each municipality has its day. Take note not to miss them: In Fornells, an agri-food market with organic products on Major Street every Monday from 6 to 11 pm. On Saturdays and Sundays artisan market on Calle del Mar from 6pm to midnight. In Es Mercadal it combines gastronomic products with crafts and is organized on Thursdays from 7pm to 11pm, in Plaça del Pere Camps and Nou and Major streets. In Alaior, on Wednesdays from 7pm to 9pm in the streets of the center.
In Ferreries on Fridays from 7pm to 11pm, also in different downtown streets.
In Es Migjorn Gran on Tuesdays from 7pm to midnight.
In Mahón, Agro Maó awaits you, a market for local agricultural products, which in the month of August goes from morning to afternoon, from 6:30 p.m. to 8:30 p.m.
In Es Castell, the daily market of Calesfonts from 8:00 p.m. to 2:00 a.m. and also a creative artisan market every Monday from 7:30 p.m. to midnight.
In Ciutadella, from Monday to Saturday (daily in July and August) you can go to Firac, the artisan market on Portal de la Mar street, from 8:00 p.m. to 1:00 a.m. and the Capllonch market, from 6:00 p.m. to 12:00 p.m. Almost impossible not to run into any of them if we spend a few days in Menorca during the summer months. You will find from cheeses to original costume jewellery; 
FIESTAS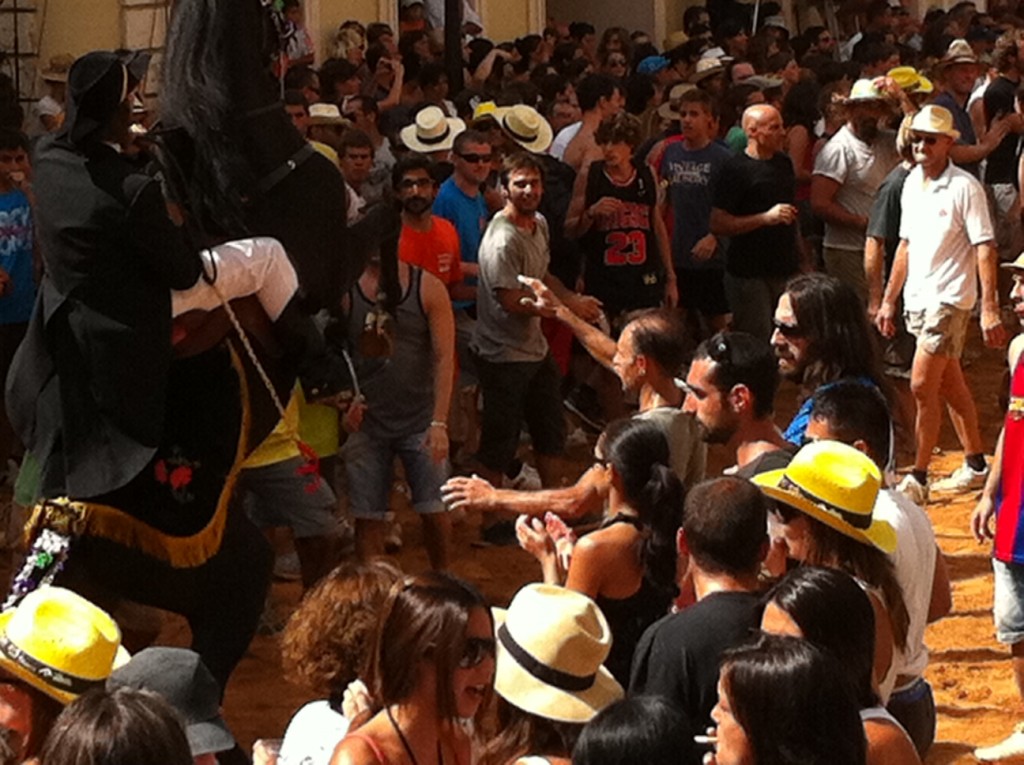 Horses are the common factor in all the local fiestas on Menorca, they are held throughout the summer months and are a perfect showcase for the long standing island traditions.
The fist major date on the calendar is in June, with the famous Sant Joan fiestas in Ciutadella which attract visitors from near and far. The final fiestas of the summer are in September, these are the Sant Nicolau fiestas in Es Mercadal which are held immediately after the Virgen de Gracia fiestas in Maó.
The riders (known as los caixers y cavallers ) wear black and white and most of their horses (adorned with ribbons and multi-coloured rosettes) are of the highly-considered Menorcan breed. The riders and their horses parade through the streets, and these magnificent and remarkably calm horses rear up on their hind-legs to the delight of the crowd.
During these festive days a strict protocol regarding the traditional religious ceremonies is maintained. This, added to the spectacular 'jaleos' in the main square and the wonderful sense of fun and camaraderie between riders, locals and visitors, makes for an unforgettable experience.
The fiesta dates for each town are advertised on WWW.MENORCA.ES
Below please see an indication of when these fiestas take place each year in the different municipalities
– Sant Joan de Ciutadella: 23rd and 24th June, plus the previous Sunday.
– Sant Martí de Es Mercadal: third weekend in July.
– Sant Antoni de Fornells: fourth weekend in July.
– Sant Jaume de Es Castell: 24th and 25th of July.
– Sant Cristòfol de Es Migjorn Gran: fifth weekend of July or first weekend of August.
– Sant Gaietà de Llucmaçanes: first weekend of August.
– Sant Llorenç de Alaior: second weekend after 10th August.
– Sant Climent de Sant Climent: third weekend in August.
– Sant Bartomeu de Ferreries: 23rd and 24th August.
– Sant Lluís de Sant Lluís: last weekend of August.
– Mare de Déu de Gràcia de Maó: 7th and 8th September.
– Sant Nicolau en Es Mercadal: 10th September.
Any information from this website is shared in good faith. Please be aware that Holiday Mobility Scooters Menorca is not responsible for any disappointments or inaccuracies.