Calan Porter Beach and Resort
The Resort of Calan Porter, located only 15 minutes from Mahon Airport has been famous since the 1950´s among the British visitors and is also home to many international families. 
There is a local bus connection all year round and  the owners of its many bars and restaurants work very hard to ensure your stay is wonderful.
The Stunning Beach of Calan Porter lays below the cliffs and Resort of Calan Porter, however the road leading down to the beach is extremely steep.    Access with a mobility scooter could be dangerous and we do not recommend this.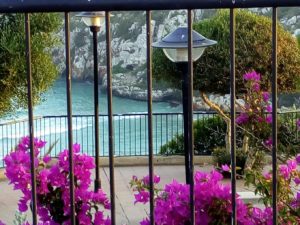 The beach is not accessible by bus, so a car is necessary or a taxi and there are 2 Disabled Parking spaces!
Once you are at the beach you shall enjoy the spectacular views of the bay cove and sea. There are restaurants, bars and a beach shop.  There is a small playground and a wooden cladding walkway leading to the beach.
Facilities on the Beach
Disabled Parking
Buoys and nets
Parasols
Life guards
Cladding walkways and Ramps on to the beach
Amphibious floating chairs (Ask Red Cross staff for help!)
Disabled Toilets
Sunbeds    
Accommodation in Cala'n Porter /Alaior Area
Ground floor Accessible Rooms with walk in showers: YES

Public Indoor and Exterior areas are all Accessible 

Accessibility to Pool: YES
Luxury Boutique Rural Hotel with an award-winning reputation
The staff and hotel offer unique experiences to clients, being respectful with the environment that surrounds the property and in the care of the environment; what allows us to transmit the ethical and responsible business principles that guide our way of working.  The care rehabilitation has led Antic Menorca to become a luxury accommodation, where the interiors follow the architectural lines of the building creating a warm and cozy stay, offering a unique environment where spaces, pure air and nature compose the magic of this place.
Accessible Bungalow Rooms: 2

Accessible Rooms: YES

Access to Public Areas: YES

Accessibility to Pool: YES
Popular family hotel in elevated location of Calan Porter.
The beach is down a very steep hill from the resort, therefore the road down is not recommended for mobility scooters or wheelchair users. There is a tourist train which is ♿ Accessible that goes down to the beach from various stops in the resort. Ideally a car with a portable mobility scooter is the best option to get to the beach and to Explore Mahon.
Restaurants and Bars
The resort is family orientated with plenty of bars and restaurants on a pedestrian strip which is ♿ accessible.
Big Al's Ranch – Calan Porter

Av. Central, 07730 Cala en Porter

Tel: 630 28 12 37

Big Al's Ranch is a western themed Steak House & Bar 

Walk-ins welcome

Good for groups or parties

Good for children

Takeaway, Table service

Outdoor seating

Wheelchair Access

WC Adapted for wheelchairs   

Poolside Bar

Good for children

Takeaway, Table service

Outdoor seating

Wheelchair Access

WC Adapted for wheelchairs   

Opening hours

Sunday to Monday 12 noon to 12 midnight

 

Service options: Dine-in · No delivery